Idag är Göteborg grått och regnigt som bara den, classic. Poff så försvann vintern vi hade ett par dagar och det blir blött och grått och jävligt istället. Längtar SÅ tills jag och Sebbe flyr landet för en stund. Just nu lutar det åt att vi blir borta ca 1,5 månad men det är fortfarande inte riktigt bestämt ännu. Hur som helst skall det bli SÅ skönt att slippa ifrån Sverige för det är så sjukt deprimerande här under vinter-halvåret. Hela befolkningen hamnar i någon sorts kollektiv depression liksom?
I lördags var jag i alla fall med och anordnade Ingen Människa Är Illegal:s klubb Klubb Illegal. Det var skitfin och gick jättebra. Var klädd såhär kvällen till ära: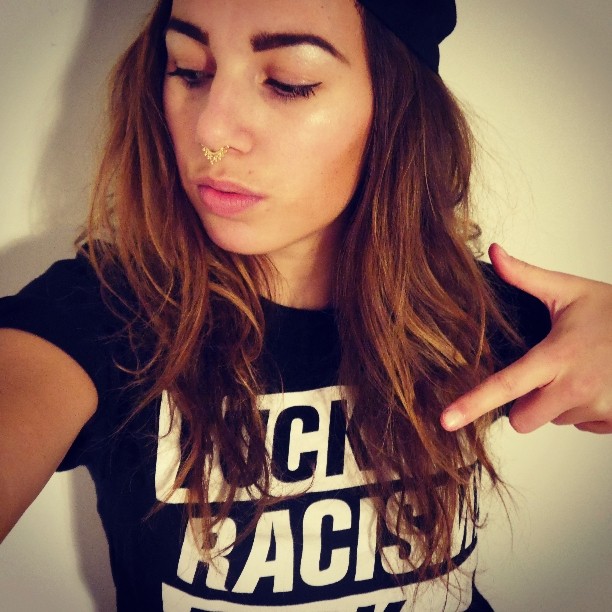 Fin tröja va? Fuck racism. No borders, no nations, stop deportations. Den som flyr har inget val, ingen människa är illegal. Vad ska vi göra? Krossa rasismen! När när när? Nu nu nu! You have to understand, that noone puts their children in a boat unless the water is safer than the land. Osv.
Denna måndagen är rätt lugn för mig, och veckan likaså, har lite möten inplanerade och så, men inget stort. Har en guidning imorgon och nästa vecka en till, och så drar jag dessutom igång en kurs för nyanlända asylsökande i svenska. Ska bli skitkul att få vara kursledare åt det, och ännu ett jobb som är _relevant_ för det jag pluggat. Så himla kul! Har förresten hänt en annan grej på jobb-fronten: har fått uppdrag som PLATSCHEF på West Pride!!! Skall vara platschef för West Pride Ung och det ska bli så jäkla sinnessjukt roligt!!!! Ser SÅ fram emot West Pride 2016 nu! Det är ett ideellt uppdrag på ca 20 % så det blir lite som en praktik nu i vår, som blir väldigt intensiv framåt maj-juni. Ska bli så kul! Och på tal om utbildning, mitt examensbevis damp äntligen ner i brevlådan häromdagen! På mycket fint och tjockt papper och med stämplar och underskrifter och grejer. Fancy pancy. Scannade in det, såhär fint ser det ut (dubbelklicka för större bild):
Ha en fin vecka allihopa, pusssssssssssssssssss
//ALiCE med ICE