Finally I've got access to a working computer with Internet again!
The 27th of December we got up early to be at the airport across the street at six and eat breakfast there. After some waiting we flew over to Canaima in five seats-planes – a flight which took around one hour. It was really cool but pretty scary – and very noisy – to fly in such a small plane – it felt like the wind could catch the plane anytime and the start and the landing felt pretty scary… but we survived and we found ourself at the beach by the Canaima lagoon for one and a half hour before we got our rooms and ate lunch. The "lagoon" (which is not really a lagoon but looks like one) was beautiful with a beach, and the water – lake water – was nice though it wasn0't deep at all. After lunch (a mountain of pasta and a little meat sauce on top, guess pasta is very cheap and meat expensive) we went by the boats to the other side of the lagoon to walk up to the top of a big waterfall. During the little walk the sky opened up and we practicly got showered in the rain. The sight over the waterfall was powerful when we after a fifteen minutes walk got to the top.
We walked down again and came to the bottom of a big waterfall – and now was the time for the coolest and most amazing, magnificent thing I've ever done – we walked under the waterfall. It was an amazing feeling to walk under the waterfall with thousands and thousands liters of water falling over you. We got totally wet but it was definitely worth it – I can't describe how cool this was!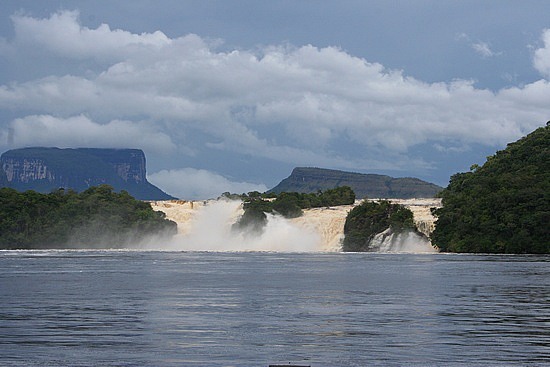 Picture from Google – I think it's the waterfall to the left that we walked under!
Dinner – pretty strange one with omelett, rice and arepas (some venezuelan bread of corn that they serve everywhere and anytime) and then we slept well though our shower didn't work…
//ALiCE med ICE