Åååååh alltså sicken skapelse jag svängde ihop i köket igår. Jag hade planerat att göra korma länge, och jag har försökt tidigare men då hade jag inte riktigt rätt ingredienser hemma. Nu hade jag tre viktiga saker som jag inte haft innan: kardemumma, sötmandlar  och torkade aprikoser. Jag rekade lite på nätet hur jag skulle göra men hittade inget bra recept så jag improviserade. Men det blev så så så gott! Gud, ibland är jag impad av mig själv alltså, hehe. Men nu skall jag sluta hype:a och ge er receptet fööööör…. what for it….. vegansk kormagryta!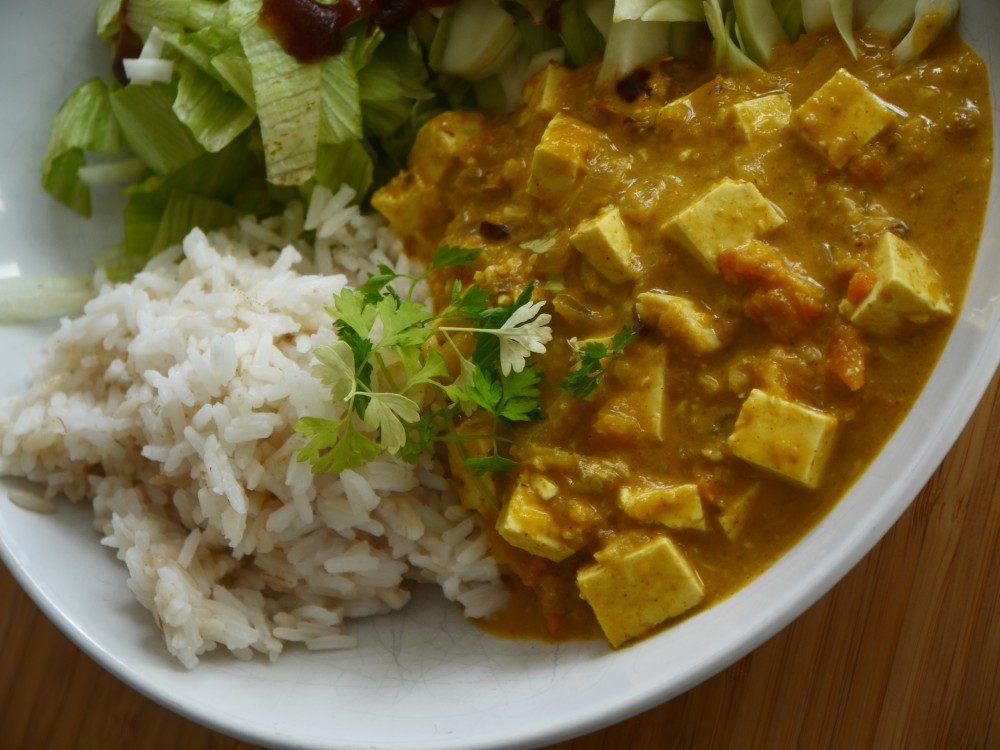 Look at it! Just look at it! Ser så fint ut. Min lilla korma-gryta, vad du är gölli! *emoji med hjärtögon* Okej, nu kommer ingredienserna i alla fall. På ett ungefär, för som sagt, jag höftade och improviserade.
Ingredienser för 5-6 personer
6 (ungefäääär) stycken aprikoser (annan torkad frukt, t.ex. russin, funkar också!)
100 g (typ, en näve) sötmandlar (annan typ av nötter, förslagsvis cashew, funkar också!)
1 gul lök
1 morot
1-2 vitlöksklyftor
1 färsk chili
En bit ingefära (tja, två-tre cm?)
Olja till stekning
Curry-krydda
Kardemumma
Spiskummin
Tomatpuré
Agavesirap
1 burk kokosmjölk (400 ml)
500 g tofu
Salt
Ris/bulgur/couscous/mathavre/matkorn/råris/quinoa/annat valfritt tillbehör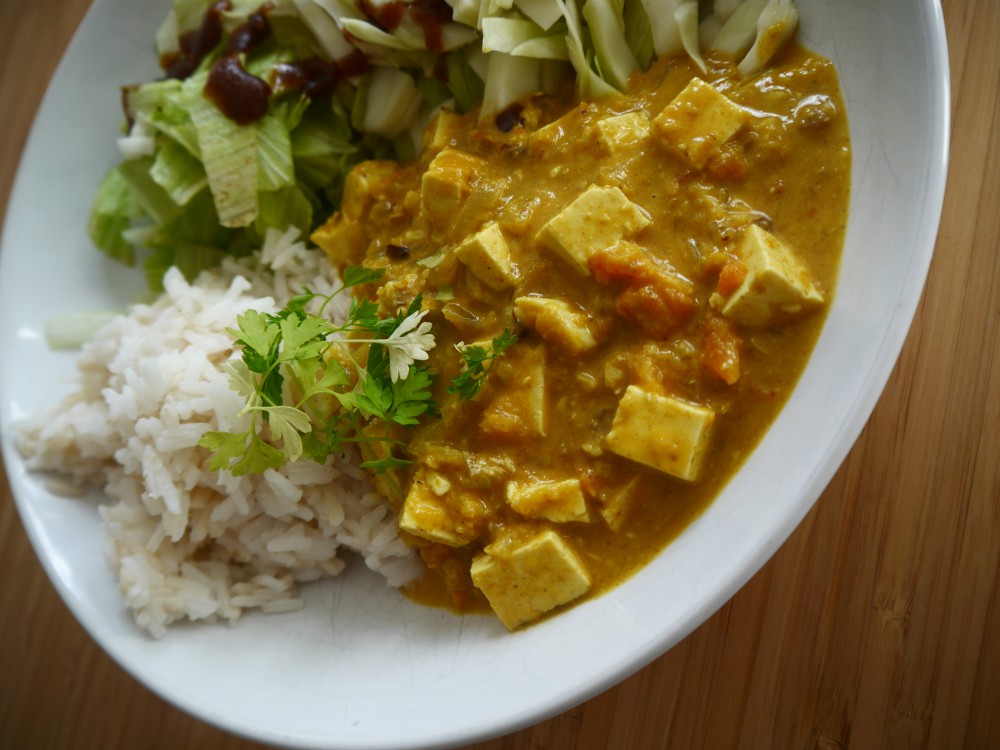 How to
1) Några timmar innan: Blötlägg sötmandlar och aprikoser tillsammans i en skål med vatten så det täcker. Vet ej om detta är nödvändigt men tänker att det är bra om de mjukas upp lite och suger åt sig vatten?
2) Skala och hacka gul lök, vitlök, ingefära och färsk chili och bryn i rikligt med t.ex. rapsolja och en skvätt agavesirap i en kastrull tillsammans med massa curry, spiskummin, kardemumma och en skvätt tomatpuré. Var inte rädd för att krydda massa! (Visste ni förresten att kryddorna helst skall i först av allt, när en bryner i olja, för att lösgöra smakämnena?)
3) Mixa de blötlagda mandlarna och aprikoserna med lite av blötläggningsvattnet plus en morot (som kanske kan vara bra att förhacka lite så mixern inte går sönder) så det blir en röra. Tillsätt röran i kastrullen med det andra. Feel the aromaaaa!
4) Tillsätt en burk kokosmjölk och antagligen mer av alla kryddor (pga en har en tendens att krydda för lite), och lite salt. Koka upp, rör om, smaka av osv.
5) Sist av allt, tärna tofun och släng i den också. Låt puttra en stund och tillsätt eventuellt lite vatten om du vill ha rinnigare konsistens på grytan.
6) Ät tillsammans med förslagsvis ris och sallad. NJUT.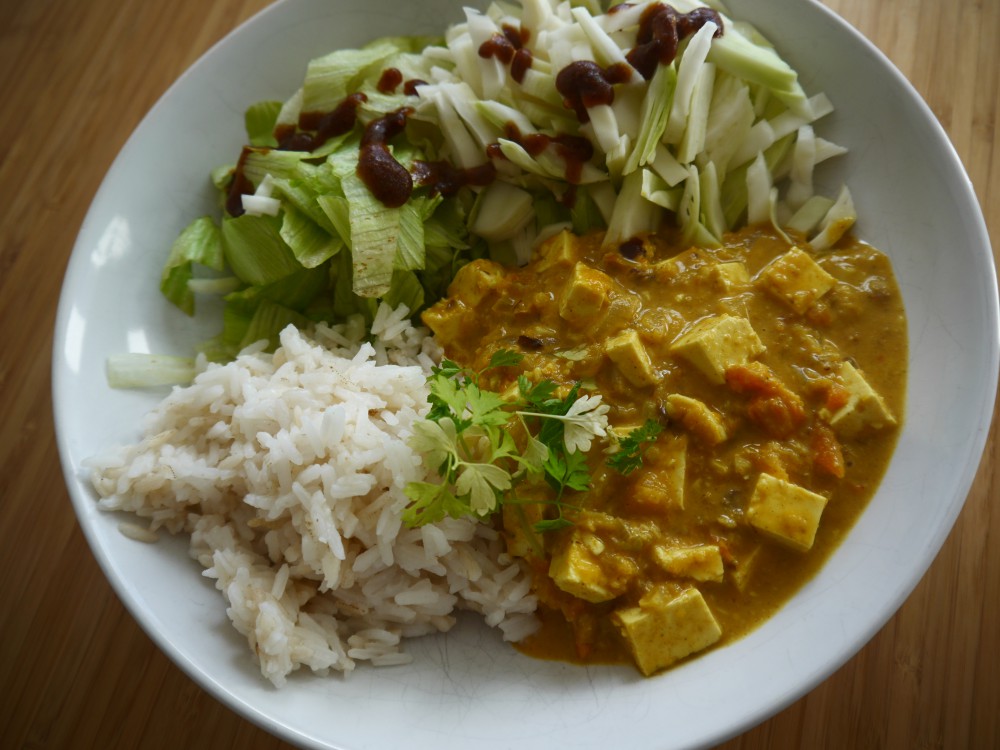 Sincerely, yours truly
//ALiCE med ICE