Vet inte vad som har hänt med mig, plötsligt har jag jättemycket att blogga om?  I guess it's the  vacay, aight? Anyway, vi måste prata lite om Orange Is The New Black. Det har ju släppts en ny säsong som I guess ingen har missat (såvida ni inte bott under en sten det senaste året alternativt är extremt ointresserade av TV-serier), och jag har äntligen sett klart hela nu. Många plöjde väl alla på en gång (Netflix släpper alla samtidigt till skillnad från tex Game Of Thrones) (som vi för övrigt också behöver prata om), men jag hann inte riktigt. Men nu så. OBS NU BÖRJAR JAG SPOILA GREJER HÄR SÅ LÄS INTE VIDARE OM DU INTE SETT SENASTE SÄSONGEN OCH PLANERAR ATT SE DEN.
Alltså. Jag grät så jäkla mycket på det näst sista avsnittet. Hulkade som jag-vet-inte-vad i min ensamhet när min favvo-character all times Poussey dog. ALLTSÅ!? Jag misstänkte att något skulle hända, för hon och hennes tjej har bara gått runt och varit gulliga och lyckliga och tuttinuttiga hela säsongen, jag tänkte liksom, det här är nästan lite för bra för att få vara sant. Poussey har ju liksom haft lite problem innan och så, med alkoholmissbruk, att hennes kompisar övergav henne för Vee, att hon varit olycklig utan någon att älska osv. Och nu när hon äntligen hittat kärleken i Soso, så går hon och dör!? Aaaaah. Blev så arg och ledsen –> 🙁 🙁 🙁 🙁 🙁
Äeee, det var cruel av seriemakarna också. Men ett bra avslut rent dramaturgiskt såklart. Och upplagt för en till säsong med cliffhangern det slutade med, jävlar i min lilla låda alltså. Spännandeeee. Ska vi behöva vänta ett helt år nu innan vi får veta huruvida Dayanara kommer fucka upp sitt liv med att döda den där vakten och därmed förlänga sitt fängelsestraff, säkert bli helt psykologiskt knäckt, göra sin nyss utsläppta mor besviken osv osv osv? HOW ARE WE GONNA DO THIS?
Ahja, tills dess. Tribute to Poussey. You were always my favourite. Eller ah, hade ju en liten crush på Stella a.k.a. Ruby Rose när hon dök upp i förra säsongen pga SÅ SNYGG. Jag skall erkänna det. Men Poussey alltså. Ändå finaste karaktären. Alltid snäll, glad, solidarisk som få, modig som vågade stå upp mot Vee när ingen annan vågade, bästa hootch-makern, smart och flitig, skämtsam, gullig, snygg.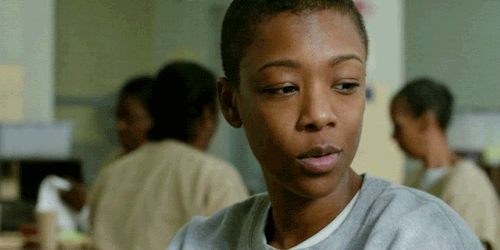 (Btw, gud, varför ser det så sexigt ut att röka?)
Poussey, R.I.P.
//ALiCE med ICE