Har börjat kolla på en ny serie från Netflix. Först började jag kolla på Stranger things som också är en av Netflix's nya serier, men hann kolla i fem minuter innan jag insåg att näe, jag kan inte kolla på det här själv för jag kommer bli alldeles för uppskrämd, haha. Får vänta tills Seb kommer hem så kan vi kolla tillsammans. Började istället kolla på The get down, och jag gillar det verkligen!
Den utspelar sig 1977 i Bronx, New York, där byggnader står tomma, landlords betalar kriminella gäng för att bränna upp dem och få ut försäkringspengarna, olika gäng driver drogkarteller, sommaren är den hetaste sommaren någonsin, och de svarta och bruna ungdomarna med latinamerikanska och afrikanska rötter drömmer sig över till andra sidan, Manhattan, dit den enda connection:en är tåget. Serien är regisserad av Baz Luhrmann som också regisserat tex Moulin Rouge och The Great Gatsby, och det syns! Mycket färgstarkt, spektakulärt, musik all over the place. I like it.
Det handlar om Ezekiel (godingen med blå tröja längst till höger i gif:en ovan) som är mycket talented with them words, och hur han och den aspirerande DJ:en Shaolin "Shao" Fantastic (med röd tröja längst till vänster i gif:en ovan) träffar varandra och inser att tillsammans kan de bli något stort. De måste bara få in cash, och Shao måste lära sig DJ:a. Och här snackar vi DJ:ing på riktigt; vända vinyl-skivor, ha två skivor på samtidigt där den ena är nutid och den andra framtid, räkna ut exakt matematiskt när en skall börja om den ena skivan för att få samma beat, osv. För det är nämligen där och då, i 70-talets Bronx, som nutidens hip hop växer fram: talangfulla DJ:s använder disco-dängornas grunder men jobbar med matematik och noga uträknade skivbyten med att hoppar över sången ("det tråkiga") och skapa föregångaren till dagens hip hop-beats.
Samtidigt som hip hopen föds, håller discon på att dö ut, men Ezekiel:s "girl" Mylene drömmer om att bli just den nya discodrottningen.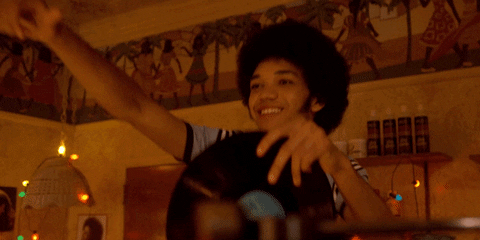 Mylene har en extremt religiös familj som inte vill tillåta henne att fullfölja sina drömmar om att sjunga disco, och samtidigt stöter hon bort Ezekiel eftersom hon vill ge sitt hjärta åt en "man med ambitioner", inte någon som kommer stanna i the Bronx forever, och som inte vågar utnyttja sin talang.
Samtidigt som Mylene ägnar sig åt sin sång och Ezekiel, Shao och resten av "Fantastic four plus one" jobbar med sitt projekt The get down; en hemlig hip hop underground-klubb någonstans i Bronx ruiner; finns sidospår, och hela serien känns som en ständig kritik av både dåtidens och dagens orättvisa samhälle med klassklyftor, segregering och rasism.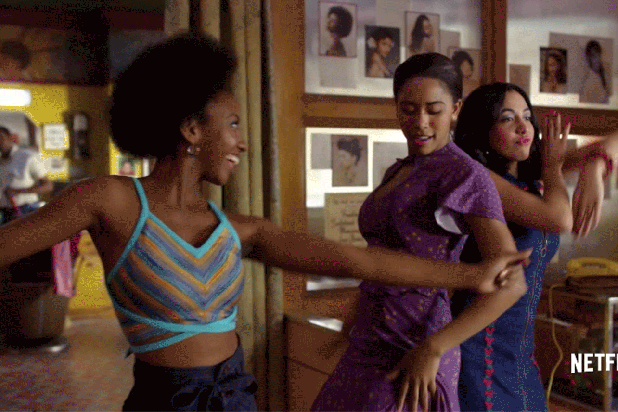 Mycket uppfriskande med en serie där alla personer är svarta eller bruna; en tydlig blink åt Black lives matter-rörelsen, och roligt hur hela serien osar 70-tal. Värt att se bara för 70-talsestetiken och -musiken.
Rekommenderar denna serie! Har bara sett tre avsnitt än så länge, men jag gillar hur allvarligt blandas med roligt, hur Bronx-romantiken med takhäng och underground-fester blandas med Bronx-misären med råhet, bränder, droger och kriminalitet, hur disco blandas med hiphop och hur hela serien känns fräsch och nyskapande. Black lives matter, som sagt.
Avslutar med att citera ett poem som Ezekiel läser upp ungefär tjugo minuter in i första avsnittet. Tillåt mig att gråta lite. Tänk er detta till ett melankoliskt, tungt men ändå melodiskt hip hop-beat.
Boom, then crash, the shattering of glass
I dived to the floor, busted my ass
"What the hell was that?" was all that I said
Then I see the pool of blood, then I see my moms was dead
No emotion in the commotion, I wasn't even sad, even when I learned that the bullet was meant for my dad
Vietnam made pops crazy he was already half-dead so why couldn't that have been him that they shot in the head?
All the news that fits the print, Mama's death went unreported, not a whiff, word or hint
"They don't care about us niggas" is how my pops explained it
But I didn't know I was a nigga until my dad proclaimed it
Six months later my pops was dead, too, drug-related shots fired, his skin turned cold blue
On the news that night the president's wife got a new hairdo, the news guy said "I like it. How about you?"
No word about my pops in the Post or on CBS, why was that, you ask? Take a fucking guess
And yeah, why is that? is what politicians should be asking, but who's got time for questions when y'all skiing up on Aspen? Bronx get gunshots to the head and all ya'll swerving us is Aspirin
My mama was so lovely she would have made your head spin, level the playing field and y'all would see who would really win, and yeah, I got anger. But I don't let it take me down, because my mama taught me better, and she holds me up when I fall down
Rest in peace, moms, don't worry about your son
Someday I'll make you proud because yeah, I am the one.
Och PS. Alla skådespelare är dessutom så jävla snygga. Just sayin.
//ALiCE med ICE